Il Ringraziamento è la festa americana in cui si ricorda per cosa si è grati e scommettiamo che i clienti di questi supermercati sono grati a Sia!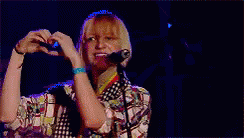 Proprio durante il giorno del Ringraziamento 2019, che cadeva ieri, la cantante si è fermata in diversi negozi di alimentari nella zona di Palm Springs e passando di cassa in cassa ha voluto pagare la spesa per tutti.
@Sia going to wallmart while in disguise and telling shoppers her name is cici and that she just won a lottery and paid for everyone groceries on thanksgiving thursday its so superhuman. Dnt get it twisted, i know lot of celebrities do this too. God bless all ya'll. pic.twitter.com/74uz70RQ2Z

— ⚡✝🌫🥇🌫🖇🇳🇬 (@donenche) November 29, 2019
Secondo i presenti, la 43enne non ha rivelato il suo vero nome ma ha detto di chiamarsi "Cici" e di avere appena vinto alla lotteria.
Tanto è vero che in molti non l'hanno riconosciuta, anche perché era senza l'iconica parrucca con cui spesso si esibisce o si presenta sui red carpet, e si sono accorti che era stata proprio lei a pagare loro la spesa quando hanno visto girare la notizia.
E brava Sia!
ph: getty images